Top 5 Off-Road Trucks & SUV's
Updated June 27, 2012
Looking to hit some dirt, mud, and gravel this weekend? As long as you have a four wheel drive truck or SUV, you can come along for the ride! However, we must remember that just because a truck is 4×4 doesn't mean that it will handle off-road driving well. Some are better than others, and I'm going to go review them based on my personal experience driving them.
#5 Off-Road Truck/SUV : Toyota FJ Cruiser
The classic FJ will always be one of the best for off-roads. It has a relatively weak engine, but it does an amazing job still. It was built using a combination of the Jeep steering and the Hummer design, Toyota did not disappoint in its ability to handle just about any type of terrain. The main problem I had taking the FJ out to the lake was its tough view. Its shape doesn't allow you to get a full grasp of what's in front or behind you. If you're not really careful, you could do some serious damage. Equipped with standard traction control, the FJ is a great buy for Toyota lovers who want something unique.
#4 Off-Road Truck/SUV : Land Rover Defender
My biggest problem with the defender was always its looks. Its off-road capabilities have always been tremendous, especially considering its modest cost. The defender boasts a powerful 6 speed transmission with a standard V8 engine. It gets above average gas mileage for such a big SUV as well. When I took it off road in Southern Georgia, I was genuinely impressed with its suspensions. It was a really smooth drive through some rough, rocky terrain. I even got it stuck once and was able to use the force from the engine to spin its way out, though I might be a little afraid if I were to be in a serious mudding hole. Any truck can get stuck. It takes power to work your way out of it. Face it, you can buy one today right out of the lot for under $30,000.
#3 Off-Road Truck/SUV : Hummer H3
This is the whole concept behind the Hummer H3. It has the capability to go to any terrain, and its 300 HP engine is one of the top in the industry. It's not going to be the most environmentally friendly car, but it does everything you ask it to and more. I'm sure it's happened, but I've never seen an H3 get stuck before. I got stuck in a ditch once and had the H3 at a near 180 degree angle (I thought I was about to flip!) and it drove as smooth as it would on the pavement. It just powered its way up like it was nothing. Hummer is also constantly improving their gas mileage for the strong 6.2L engine that it currently uses. Available in both automatic and manual transmission, Hummer has always been at the top of any off-road list.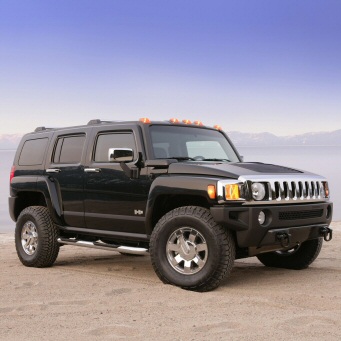 #2 Off-Road Truck/SUV : Ford F150 Raptor
The Raptor! Oh, how much I love it. I've only been able to drive it once, and it was amazing. The SVT Raptor is a truly state of the art off-road monster. I've seen videos where it was driving in an ultra steep ditch the size of a meteor strike and inside it felt like you were cruising down the interstate. Its rail guards ensure that it will receive minimal to nobody damage at all regardless of where you take it. The 2012 version is equipped with a front camera, designed specifically for off road conditions, as well as new anti slip additions that make this model of the F150 truly special. This is Ford's masterpiece.
#1 Off-Road Truck/SUV : Jeep Wrangler
At the end of the day, there can only be one number one. The Jeep Wrangler basically invented off road trucks. I've taken the six speed out for a drive and its magnificent. It's available in two and four door models, allowing you to use it exactly what you need it for. It has 285HP, which isn't the highest you will find in a 4×4, but it has the classic Jeep durability that has kept it the number one selling SUV brand in the nation. For the V6 engine that they put in it, the Wrangler walks a fine rope between Power, Durability, Looks, and Off-Road Capabilities. As a strong lover of 4×4's, there was no way I could rank any other vehicle higher than the Jeep Wrangler.
Categories: Gear Grinding