We've been witnessing the hybrid and all-electric vehicle market's rapid expansion in recent years. At the same time, the automotive world has been caught in a crossover/SUV craze which isn't showing any signs of stopping. Put two and two together and it's evident that hybrid and all-electric SUVs will soon rule the streets.
Even manufacturers that had never produced an SUV or crossover, or an all-electric car for that matter, will soon start offering them in droves. By 2025, both the EV and crossover markets are bound to expand even further. Moreover, electric cars are expected to reach price parity with their more conventional counterparts around the same time.
The first stepping stone on that path should be MY 2020. This is where we'll take a glance at the best upcoming 2020 hybrid SUVs and electric SUVs to keep an eye on in the coming months. Without further ado, here they are.
07. 2020 BMW iX3
The first BMW all-electric car, the i3 subcompact hatch, made its debut in 2013 only to be followed by the larger i8 plug-in hybrid coupe a few months later. It's been a while since the Bavarians had done anything with their plug-in electric sub-brand, or so it would seem. In truth, they've been working on a whole new range of new hybrid and electric cars, and the upcoming 2020 BMW iX3 crossover should be the first of many future BMWs whose name starts with an "i."
The iX3 will be built upon a new eDrive platform alongside all the subsequent models. Already unveiled as a concept car, the all-electric counterpart to the X3 will be exclusively built in China and exported to all the major markets around the world. It'll launch in Europe during 2020 first, and migrate elsewhere from there. As expected, it very much resembles its conventional sibling, although it features a number of unique BMW i elements both inside and out.
The 2020 BMW iX3 should be able to provide up to 250 miles of range thanks to a large 70 kWh battery pack and two electric motors – one on each axle. This will provide both all-wheel-drive and torque vectoring to the luxury compact electric crossover. The net system output should amount to 270 horsepower which is more than plenty for a vehicle of the iX3's size.
The Bavarians still haven't disclosed the iX3's price range but one of its main rivals' price ranges could be all the info we need. The Jaguar I-Pace, which is already available, costs between $69,500 and $98,000 before incentives. BMW's luxury electric compact should fall within a similar range, price-wise, although it'll probably be slightly less expensive than the Jag.
06. 2020 Polestar 3
A new star is born in the automotive world's sky (quite literally considering the Polestar's name and badge). The Polestar is by no means an unknown name to car enthusiasts, but it's only now that Volvo's performance division has finally become a brand of its own. It took them some twenty-odd years since being founded back in 1996, but the Swedes are now poised on churning out five all-new models in quick succession.
Aptly though not exactly creatively named Polestar 1 through 5, these upmarket beauties will almost exclusively be fully electric from the get-go. The Polestar 1 and 2 have already been unveiled, but unlike the expensive Polestar 1 electric sports coupe, the Polestar 2 is a much more affordable affair.
The Polestar 3 will, of course, be a crossover, but very little is known about it at this point apart from the fact it will be revealed at some point during 2020 or 2021 at the latest. That and the fact it'll actually be a coupe-like crossover.
Considering it'll be revealed in late 2020 or early 2021, the chances of the Polestar 3 being available during MY 2020 are very slim. However, being as compelling as it is, we simply couldn't pass on the opportunity to present it among the best 2020 hybrid SUVs and all-electric SUVs and crossovers.
Polestar's chief operating officer Jonathan Goodman said the Polestar 3 will be entirely different than anything Volvo has made up until now. The exact specifications are, sadly, still being kept a secret, though. We'd expect it to serve as the Polestar's Tesla Model Y counterpart – much like the Polestar 2 will be the Tesla Model 3 fighter.
The Polestar 3, together with remaining models of the world's newest automaker, will be available either for conventional purchase or in a subscription model. That way, the Swedes hope to draw in younger audiences that aren't really keen on suffering headaches stemming from car ownership, but still need a way of transportation day in and day out. More will be known closer to the official release date.
05. 2020 GM Electric Crossovers
The largest American automaker hasn't been too invested in electric vehicles lately despite producing one major automaker's very first modern EV back in 1996. The unlucky EV1 didn't really manage to garner the intended appeal, hence GM put the zero-emissions vehicle development into hiatus. Their hybrid lineup, on the other hand, is as vast as they come. Moreover, there's now the increasingly more popular Bolt EV to consider when browsing through GM's portfolio.
Almost 25 years after the failed EV1 experiment and exactly 2 years after introducing the Bolt, General Motors are finally ready to expand their EV lineup with a couple of all-new crossovers. The future lineup of GM electric crossovers was announced a while ago but has finally been given form via the Buick Enspire concept presented at the 2018 Beijing auto show.
Both are expected to share the aforementioned Bolt's platform, but they're far from everything GM is planning to do in the EV field. They're also making an all-new electric platform that's supposed to underpin a total of 20 new models by the time 2025 is upon us. That promise was made in October, 2017, however, and GM is yet to show us the fruit of their almost 2-year long labor since then.
Back to the Buick Enspire – the concept boasts a healthy range of 370 miles, 80 percent of which can be charged in just 40 minutes. It sports Buick's eMotion powertrain which generates around 550 horsepower, which is right in the Tesla Model X performance edition's alley. The actual production models are still shrouded in mystery, however. So much so, in fact, that we don't even know which badges they'll don when they roll off the assembly lines. It's safe to assume, however, that the first one will remain under the tri-shield badge, whereas the other one should show up wearing a golden bow-tie.
Whichever happens to be the case, the two 2020 General Motors' Bolt-derived crossovers should be coming rather soon and more info will be known even sooner (or not, knowing GM). For now, we do know that Buick's take on the EV crossover idea (the upmarket one) will support 5G connectivity and Cadillac's Super Cruise system, and that it'll likely cost less than the Tesla Model X. Whatever we end up with, we're confident it will be one of the most compelling 2020 hybrid SUVs headed to market.
04. 2020 Jeep Wrangler Plug-in Hybrid
Intended to traverse the kinds of terrain that most vehicles can't even imagine, Jeep Wrangler stands out as one of the most popular off-roading SUVs in history. The iconic spartan Jeep CJ's successor has been heavily modernized in recent years, however, and the future is about to bring even more improvements.
The all-new JL models will become the first hybridized Wranglers in nameplate's storied history. But how will combining two seemingly incompatible concepts – the freedom to go anywhere you desire and the limitation of having to recharge your car at a specific place – work in practice? That's easy: it won't! The 2020 Jeep Wrangler plug-in hybrid will, naturally, only use its electric motor(s) system for a short all-electric range, bolstered fuel economy, and a few additional horsepower.
The only difference between the conventional and hybrid Wranglers should be the latter model's Power Electronic module. Consisting of the power inverter module and the integrated dual charger module, the PEM will be mounted below the car, between the exhaust and drive shaft. The plug-in Wrangler will likely sport a powertrain similar to that of the Chrysler Pacifica's 3.6L Pentastar V6 which has been able to return up to 84 MPGe.
The lineup's current fuel economy leader is a 2.0L turbo four engine with the eTorque mild-hybrid system which returns 23/25 mpg in a 2-door version and one point less in both categories in the 4-door model. It still remains to be seen how the 2020 Jeep Wrangler plug-in hybrid will fare in that regard, but considering it'll definitely improve without sacrificing any of its off-road prowess, the plug-in Wrangler might just become one of the best 2020 hybrid SUVs on the market when it finally arrives.
Oh, and don't worry. The plug-in hybrid version of the off-road SUV will still be able to ford up to 30 inches of water in spite of all those electrical components tied to its undercarriage.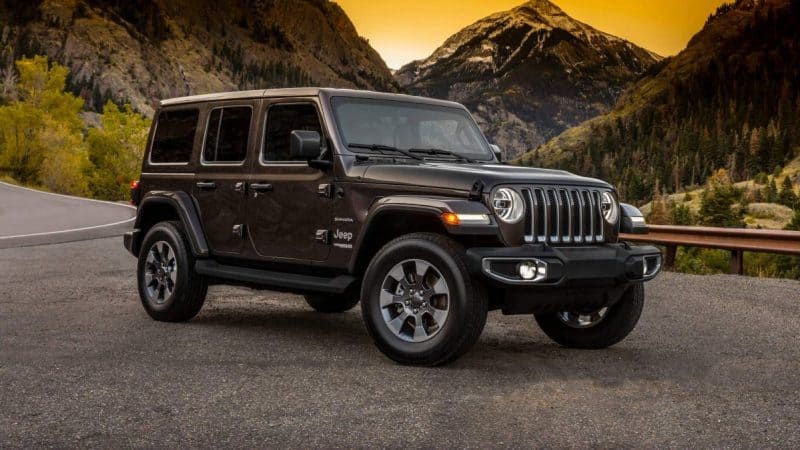 03. 2020 Volkswagen I.D. Crozz
The I.D. Crozz name might not make it into production alongside a number of the concept car's design cues, but the largest German automaker will offer a new all-electric crossover during MY 2020 one way or another. The I.D. Crozz concept unveiled at the 2017 LA motor show is simply capturing the essence of what the future SUV/crossover will be like.
The upcoming electric crossover will ride on company's MEB platform which, like it is the case with every major car manufacturer nowadays, represents a platform for the future which will underpin a number of other I.D. vehicles apart from Crozz.
Very little is known about the I.D. family's vanguard at this point, but it should slot right in with other affordable electrics with prices starting somewhere in the $30,000 range.
The concept car's powertrain consists of two electric motors and an 83 kWh lithium-ion battery pack. The front motor rates at 101 horsepower, while the rear one generates 201 ponies. Combined, they produce 302 horsepower and, together with the large battery, enable the I.D. Crozz to traverse up to 311 miles on a single charge. The catch is, however, the I.D. Crozz's range has been rated according to the New European Driving Cycle (NEDC). When the EPA gets a hand on the Crozz's powertrain, they'll likely rate it at 265 miles or thereabouts.
The Germans still haven't decided if the concept's powertrain will make the final cut, though. The I.D. Crozz concept's main issue lies in its non-production-ready design rather than in its powertrain, so we'd expect the setup to carry over into the final product. We also expect the real deal won't look much like the concept, but it could find inspiration in its shape nonetheless.
02. 2020 Ford Mustang Mach-E
The eagerly anticipated Ford Mustang Mach-E has meanwhile been pushed for a MY 2021 launch. You can read about it here.
01. 2020 Volvo XC60 T8 eAWD Plug-in Hybrid
The second generation Volvo XC60 made its debut for MY 2018 and instantly received the coveted Car of the Year award in a number of countries including the U.S. The next few years should be smooth sailing for the compact luxury crossover if nothing unforeseeable happens.
The T8 eAWD plug-in hybrid sits at the top of the XC60 range but doesn't really differ much from conventional models in terms of refinement. The pragmatically luxurious crossover can be ordered with pretty much everything there is to it when it comes to the latest technology, including the advanced electronic safety and convenience gear. As it's always been the case with Volvo, the XC60's safety features are arguably its highlight considering they include a semi-autonomous driving mode, adaptive cruise control, and a pre-collision system among other tech goodies.
The range-topping XC60 eAWD plug-in hybrid model is especially intriguing thanks to its extra power and fuel savings which are considerable. All three available models come with the same 2.0L turbocharged 4-cylinder engine under their hoods, but unlike the turbocharged-only T5 and T6 models which sport an additional supercharger, the T8 benefits from an 87-hp electric motor on top of everything. This gives it 150 ponies more than what the T5 gets, and 84 horsepower more than what the T6 has. Of course, all-wheel drive is mandatory.
Apart from making 400 horsepower, the plug-in hybrid SUV also returns 2 and 3 more mpg combined respectively. Furthermore, it allows a short but useful 17 miles of all-electric range for a price starting at $53,000 without the extras. The Volvo XC60 has made a successful transition by following its larger sibling's example, and it's here to stay. If it's even half as good as its predecessors, we're undoubtedly looking at one of the best 2020 hybrid SUVs headed our way.