Consumers are slowly but steadily warming up to what appears will be a bright future for EVs. In 2020, EV vehicle registration in the U.S. reached a record market share of 1.8%. Though this is still a small percentage of total new vehicle sales, EVs continue to gain popularity each year. We've rounded up a handful of the best electric cars of 2021 which are sure to improve EV market share — and just might convince you to make the switch to electric.
Best Electric Cars of 2021: What's New?
In addition to some of the latest and greatest tech and better battery range than ever before, these fully electric vehicles run the gamut from practical daily drivers to impressive performance-oriented eye candy. We'll focus exclusively on all-electric vehicles (and one hypercar) as hybrid and plug-in passenger cars and plug-in and electric crossovers and SUVs have already been covered separately. And we'll also take a look at some highly anticipated 2022 EV models — because with electric cars, futuristic fantasies are all part of the fun. Without further ado, here are some of the best electric cars 2021 has brought our way.
2021 Tesla Model Y
The 2021 Model Y is Tesla's mid-size SUV, slotting in between the entry-level Model 3 sedan and the full-size Model X SUV. The Model Y has dual motors and comes standard with AWD, making it great for use in rain or snow. With room for up to 5 to 7 passengers and folding second-row seats, the Model Y is designed to be a versatile people and gear hauler.
The 2021 Tesla Model Y comes in two packages — the Performance and the Long Range AWD. For thrill-seekers, the Performance boasts a range of 303 miles and a top speed of 155 mph. The Long Range AWD bumps the range up to 326 miles per charge while knocking down the top speed to 135 mph. With either package, you can recharge 162 miles in just 15 minutes with a quick stop-off at one of Tesla's Supercharger stations.
Inside, you can expect the 2021 Model Y to deliver on the usual Tesla theatrics. The Model Y boasts a 15-inch touchscreen and a constantly updating software system to deliver Tesla's latest features, functionality, and performance. Designed with Tesla's trademark all-glass roof, the interior is sleek and roomy. Price-wise, the Model Y starts at $50,990 for the Long Range AWD and $60,990 for the Performance package.
2021 Chevy Bolt
If you're in the market for an EV but are on a budget, the 2021 Chevy Bolt is on par with the Model 3 as one of the more affordable EVs on the market. This compact 4-door comes in two trim packages — the LT, starting at $37,495, and the Premier, starting at $42,695.
The Bolt has a battery range of 259 miles and makes 200 hp and 266 lb.-ft. of torque. It is front-wheel drive and can hustle from 0-60 in 6.5 seconds. Though it's not the most impressive EV on the list in terms of speed or power, the Bolt is a popular EV option if you don't want the tech of a Tesla or the price tag of a Porsche.
Since its debut in 2016, the Chevy Bolt hasn't seen too many changes. In 2022, however, keep your eye open for Chevy's new Bolt EUV, an expanded offering that takes the popular Bolt and pumps it up into a redesigned SUV.
2021 Hyundai IONIQ Electric
Hyundai's answer to the EV question is the 2021 IONIQ. This versatile fully-electric hatchback, though only sold in certain states, is an affordable way to enter the EV game. The IONIQ comes in two trims – the SE which starts at $33,245 and the Limited which starts at $38,815. Both get an estimated range of 170 miles per charge and are powered by a 100-kW electric motor that produces 134 hp.
Between the option for an extended 10-year /100,000-mile battery and drivetrain warranty and the possible federal tax credit up to $7,500, the IONIQ, though not the most advanced EV on the market, might be the most practical. Especially if you only use your daily driver for short commutes, in which case the 170-mile range should be more than enough, go ahead and give the IONIQ a second look.
Inside, you get seating for five and a smart interior design with top tech features like a 10.25-inch touchscreen and Apple CarPlay or Android Auto. And if you're not sold on the somewhat tame looks of the 2021 model, consider holding out for the release of the 2022 Hyundai Ioniq 5, a sharp-looking all new car that adds some futuristic EV flair.
2021 Polestar 2
The second Polestar model and the first fully electric car in the newly established company's portfolio, the Polestar 2 initially scheduled to enter production in early 2020. Dubbed the Tesla Model 3 fighter, the Polestar 2 might be hard-pressed emulating the favorite American electric car's appeal given its starting price is $59,900 and its range is 233 miles on a single charge.
The luxury fastback sits upon the CMA platform which also underpins the Volvo XC40 and a number of Lynk & Co models sold exclusively in China. The 2021 Polestar 2 uses a 78-kWh lithium-ion battery pack to power two separate electric motors — one for each axle. The Polestar 2 makes 402 horsepower and 487 lb.-ft. of torque.
Although the base model is not the most exciting of Volvo and Polestar models, the Swedes will give you an option to turn it into one by buying the optional performance package consisting of Öhlins-made adjustable shocks and dampers and Brembo brakes.
Being an upmarket electric car, the Polestar 2 will also sport a highly advanced interior including an 11-inch vertically-oriented touchscreen display, an abundance of advanced safety gear, and a smartphone key, just to name a few. You can opt for one of three different "city-inspired" interior themes for the aesthetic that best fits you.
2021 Nissan Leaf
When you're shopping the modern-day EV market, the Nissan Leaf is sure to pop up as a top choice among the best electric cars. And with a starting MSRP of $31,670, a brand new Leaf runs on the lower end of the EV price range.
The 2021 Nissan Leaf comes in two battery configurations. You can choose between a standard 40kWh battery with a range of 149 miles or opt for the bigger 62 kWh battery for the range-topping 226 miles per charge. The smaller battery will give you 147 hp to play with while the larger battery will bump the Leaf to 214 hp.
On the inside, you get a flexible interior space that is decked out with an 8-inch customizable touchscreen display as well as Apple CarPlay and Android Auto. Though the interior is not as slick as some of its competitor's, a fully optioned out Leaf is going to give you all the functionality you need in a user-friendly package.
2021 Porsche Taycan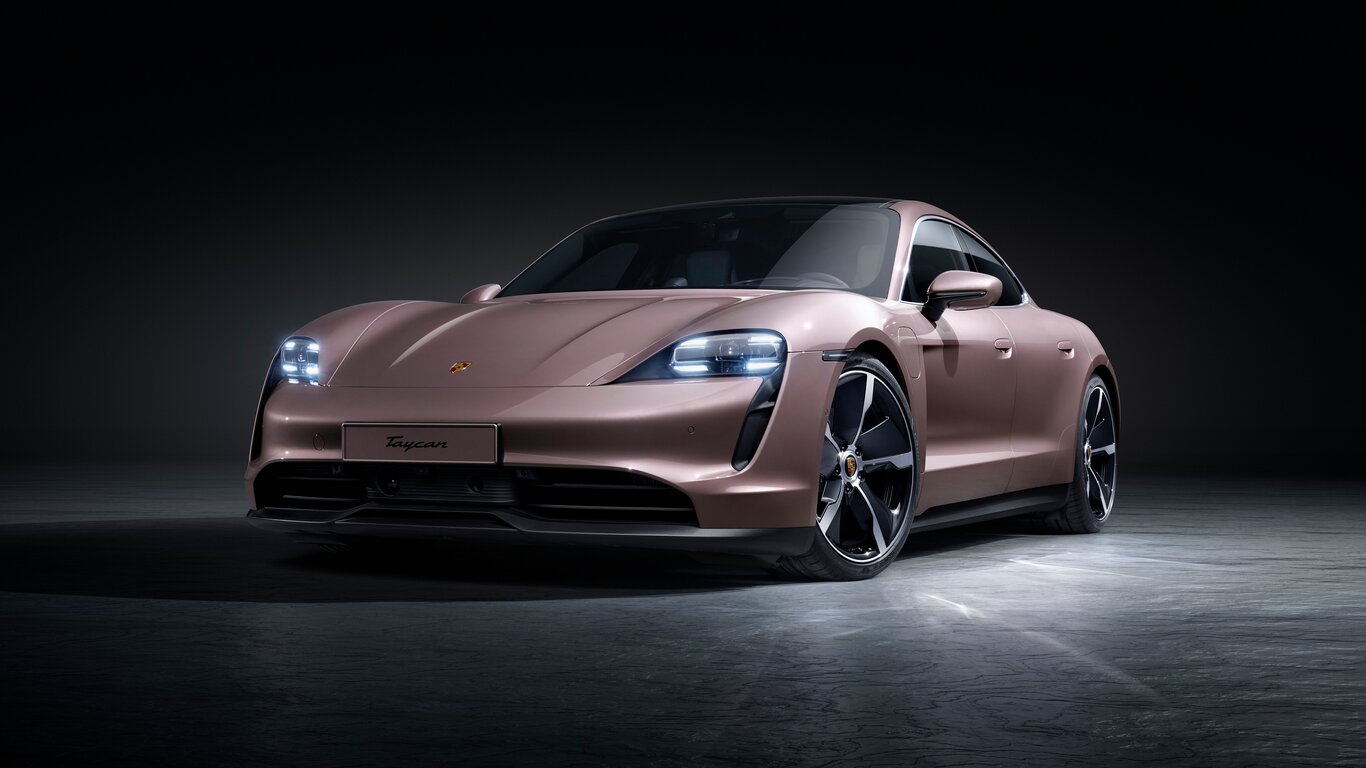 Porsche's answer to the all-electric car race is the Taycan. This exterior of this fully electric sports car has an unmistakable Porsche design that has been paired with some nifty electronic wizardry to unleash an EV that is both striking and performance-oriented.
With several Taycan models to choose from ranging from the base Taycan to the Taycan 4S, Turbo, and Turbo S (along with the upcoming Cross Turismo) you have plenty of package options and price points to choose from. You can opt for either a rear-wheel drive or all-wheel drive option. The range varies from 225 miles for the 402 hp base Taycan to 201 miles for the 750 hp Turbo S.
Starting at $79,900 for the base models and shooting well over $180,000 for the Turbo S packages, the 2021 Porsche Taycan isn't the most affordable EV on the market, though it is highly customizable with 17 exterior colors and 19 interior colors to choose from.
2021 Lotus Evija
Although we expected some changes for the better after Lotus was acquired by Geely, no one could have foreseen the 2021 Lotus Evija. Enter the British company's first true hypercar limited to only 130 already-spoken-for units priced between an exorbitantly high $1.8 and $2.5 million. Yes, the Evija isn't exactly a practical daily driver, but as a piece of stunning electric car engineering and hypercar eye candy, it makes our list.
The 2021 Lotus Evija is built around a single-piece carbon fiber monocoque chassis which significantly reduces the overall weight. Speaking of which, the electric hypercar tips the scales at 3,700 pounds. It also sports a plethora of advanced mechanics, like the active aero, and driver-oriented tech, like Apple CarPlay and Android Auto integration. Needless to say, the Evija is also expected to handle like a charm — it's a Lotus after all.
The heart behind the Evija's ludicrous performance consists of four separate electric motors — one for each wheel. Together with a 70-kWh lithium-ion battery pack, they generate a whopping 1,973 hp. It's no wonder the final product will be able to gallop to 60 mph in under 3 seconds and max out north of 200 mph. Impressive as it may be, that still isn't enough for the Lotus Evija to break onto a list of the fastest cars in the world.
Best Electric Cars of 2022: Stay Tuned
After originally teasing a 2021 release, a few manufacturers bumped out their latest electric car offerings to 2022. Though you can't buy them yet, we think these EV models are worth keeping an eye on as they come to market in 2022. If the promised specs and styling holds true, perhaps the Tesla Model 3 might have a run for its money.
2022 Audi e-tron GT
The Audi e-tron GT concept was first presented at the 2018 Los Angeles auto show at the same time the e-tron crossover started to reach its first customers. This 4-door all-electric luxury coupe was developed alongside the Porsche Taycan at the VW Group's Neckarsulm assembly in Germany. Given this, Audi's luxury coupe will undoubtedly also have a lot in common with its Porsche stablemate.
As far as the e-tron GT's powertrain is concerned, Audi will look no further than adopting the one already assembled for Porsche. The e-tron GT will be outfitted with two separate electric motors and an 85-kWh lithium-ion battery pack that should be good enough for 590 hp (637 hp for the RS) and a 0-60 sprint in around 3.5 seconds for the base model. Audi claims the GT will get up to 238 miles on a charge.
Starting MSRP is expected to run around $100,000 for the base Premium Plus package with a jump to $140,000 for the RD package. You also have the option of a mid-level Prestige package which drops the price back in the range of $108,000.
2022 BMW i4
BMW is rapidly expanding its i-range of models and after a few years of fielding only the i3 and i8, a new EV Bimmer is about to hit the market. The compact all-electric BMW i4 fastback sedan is slated for a 2022 release, and unlike its i3 and i8 predecessors, the i4 will feature a more conventional design. It's probably fair to say that the upcoming BMW i4 closely resembles the current BMW 4 Series Gran Coupe. After all, both cars are built upon the highly flexible CLAR architecture.
Even their interiors will be similar as the BMW i4 has apparently adopted the same dual wide screens for the instrument and infotainment clusters. The i4 is expected to adopt the latest driver's aids and will offer most of them standard.  The Germans will also offer both the rear and all-wheel drive configurations — the former likely being paired with a smaller battery, and latter exclusively available with a larger one.
BMW claims that the i4 will get up to 300 miles on a charge and make 500 hp with a 0-60 in the ballpark of 4 seconds. MSRP is rumored to be in the $45,000 range, potentially making this EV a solid competitor for the Model 3.
2022 Mercedes-Benz EQS
The all-new flagship EV from Mercedes-Benz is only one of many upcoming models in the EQ range scheduled to appear in the next few years. Based on the luxury epitome that's Mercedes' S Class, the forthcoming EQS is expected to emulate the former's refinement and offer it in a slightly different package.
The electric liftback sedan will ride on an all-new MEA2 (Mercedes Electric Architecture) platform and will be its first application. This, coupled with car's overall shape, should provide for an abundance of space inside in spite of the fact the EQS seems to be lower to the ground than the likes of AMG GT 4-door Coupe and CLS Class.
You'll be able to choose between two versions of the EQS — a 450 hp RWD version and the 580 hp 4Matic AWD version sports. Mercedes also claims the EQS will make up to 480 miles per charge — which could be a game-changer in the EV range wars. Though Mercedes hasn't released an official MSRP for the 2022 Mercedes-Benz EQS yet, it's safe to guess that this luxury sedan will sport a hefty price tag.