Sports cars are arguably some car enthusiast's guilty pleasure. Not only are they more affordable than the supercars that haunt our dreams, but they are also a blast to drive. The newest models are loaded with the latest tech and are sure to get some well-deserved attention. Getting behind the wheel of one of the best sports cars of 2021 is a surefire way to put some extra horsepower and a few more smiles per mile in your life.
On a more serious note, the global sports car market share has been dropping for years now. Although it's never constituted a significant portion of the entire car market (regardless of region), market share drops in recent years aren't far away from being alarming (at least for those drivers who aspire to own the dream sports car). In 2019, the sports cars market constituted as little as 0.8 percent of the entire European car market, a slight drop from 0.9 percent in 2018. Things were even worse on a global scale where sports cars (both affordable and luxury ones) accounted for only 0.6 percent of total car sales in 2018.
The U.S. market, thankfully, has always been a staunch defender of sports cars. And though the outlook isn't exactly rosy, sports car sales in the U.S. car market for 2019 accounted for 1.6 percent of total car sales. And luckily for sport car enthusiasts, 2021 had plenty of sport car models to choose from. Here's a handful of our favorites.
Mazda MX-5 Miata
Ever since it debuted in 1989, the Miata has held its ground among the best sports cars money can buy. The affordable Japanese 2-seater might be deep in its fourth generation, but Mazda won't rock the boat in 2021. The 2021 MX-5 carries on mostly unchanged. After all, why shouldn't it? Its combination of sublime handling, lightweight frame, and Mazda's award-winning styling are unparalleled in the segment.
Available either as a soft-top convertible or a retractable hard-top fastback, the MX-5 Miata offers plenty of versatility even for picky convertible aficionados. On the inside, the Miata is a well-appointed sports car with just enough high-end trim pieces to elevate itself above the conventional affordable car disposition. However, none of the advanced safety features are available in the entry-level Sport trim. Blind-spot monitors and rear cross-traffic alerts are standard with the Club trim, while the range-topping Grand Touring adds lane departure warning and automatic braking among other features.
There's only one engine serving the Miata lineup regardless of your chosen trim package. A 2.0L Skyactiv 4-cylinder is good for 181 hp and 151 lb.-ft. of torque and redlines at 7,500 rpm. You have your choice of either a 6-speed automatic transmission with paddle shifters or a corresponding 6-speed manual. Going for the stick shift can save you up to $1,350 on the entry-level model.
Speaking of prices, the soft-top Miata with a manual starts just under $26,000, while the Grand Touring models will set you back closer to $31,000. The MX-5 Miata RF starts around $32,500 but can cost north of $34,500 if you end up adding on an automatic transmission and other equipment. Either way, the Miata still ranks as one of the best, and most affordable, sports cars on the market.
Porsche 911 Turbo
The 992-generation of arguably the most iconic sports car in automotive history arrived without too much fanfare in 2019. The Stuttgart-based manufacturer was rather slow in introducing the most powerful models and the entry-level Carrera's simply failed to generate much-needed fuss. That all changed in 2021 when the Porsche 911 Turbo models arrived.
At first glance nothing radical has changed on the exterior — the all-new Porsche 911 carries over with a well-known 911 Porsche design that's been around since the sports car's inauguration in the early 60s. However, the new model relies mostly on aluminum for body panels and gains almost two inches in width compared to its predecessor. Lighter and wider, the new 911 handles even better than the outgoing 991 Series models.
As the 992-generation's halo model, the 2021 Porsche 911 Turbo adopts the new interior design and gets a touch of aggressiveness thanks to the aluminum accents. As far as the technological side of things is concerned, the 911 Turbo offers a full stack of advanced driver's aids, which is hardly surprising considering its price tag.
The engine behind the most powerful of the next-gen 911's is a twin-turbocharged 3.8L flat-six. This time, however, cranks out 572 hp with a top speed of 199 mph. And that's just the base version. The even more powerful Porsche 911 Turbo S models boasts 640 hp and eeks out a few extra mph for a top speed of 205. Both come with an 8-speed PDK transmission with power routed to all four corners.
Available as both a coupe and a cabriolet, the 911 Turbo delivers on its performance sports car heritage. The Turbo S models come with a starting price tag of around $200,000. The base units start around $174,000. If you opt for the cabriolet, you can expect to add around $15,000 to the base price — and that's all prior to adding on the other Porsche performance package goodies like the Sport Chrono package, ceramic composite brakes, and sport exhaust.
Chevrolet Corvette Stingray
After decades of rumors and speculation, the archetypal American sports car finally switched to the mid-engine layout. And though this change comes with a jump in cost,  it seems a necessary step for the 'Vette to reach its full potential.  In 2021, not only does the Corvette sport a radically different powertrain layout, but the eighth-generation Corvette also boasts a number of structural differences in its platform thanks to its new mid-engine design. Furthermore, the new car is much more angular in appearance, another byproduct of its engine layout.
Divided into three trim levels, the C8 Chevrolet Corvette Stingray offers everything from a premium Bose sound system and heated and ventilated seats to plenty of suede leather surfaces all over the cabin. And if you're looking for even more of a performance edge, shell out for the $5,000 Z51 performance package which adds an electronically controlled limited-slip diff, beefier Brembos, Michelin Pilot Sport 4S tires, and a larger exhaust worthy of another 5 hp. The stiffer Z51 suspension setup with Magnetic Selective Ride Control feature costs another $1,895 on top of that.
The engine that Chevy engineers decided to put behind the driver is nothing other than a 6.2L small-block V8 they like to call the LT2. It produces either 490 ponies or 495 horses with the above-mentioned performance package. With 470 lb.-ft. of torque and a top speed of 194 mph, the Stingray lives up to its looks. For now, it's exclusively tied to a contemporary 8-speed dual-clutch automatic transmission, but a proper stick might be introduced with high-end performance models later in 'Vette's life cycle.
The entry-level Corvette Stingray starts from $59,900, but prices soar quickly from there. If you opt for all the extras, you'll see the price tag easily surpassing the $80,000 mark. And that's just the coupe pricing. A retractable hard-top convertible costs even more. Is this latest incarnation of the Corvette Stingray worth the hefty price tag? If you've been dreaming of a mid-engine sports car, we think it's definitely worth a look.
Toyota GR Supra
Despite the fact that Toyota and Subaru are already teasing the 2022 release of the co-developed Toyota 86 and Subaru BRZ, don't overlook the iconic BR Supra which is once again in Toyota's portfolio. This affordable 2-door sports car comes in four trim packages from the relatively mellow 255 hp Supra 2.0 all the way up to the 382 hp A91 Edition which Toyota describes as the ultimate "street fighter."
The Supra shares some of the same chassis components as the BMW Z4, and as such, you can expect a versatile coupe that is comfortable to daily drive while still shelling out plenty of composed high-speed performance. Depending on the package you opt for, you can get the Supra equipped with either a turbocharged inline 4-cylinder or a turbocharged inline 6-cylinder. Both come standard with an 8-speed automatic transmission.
More of the same can be expected inside. The new Supra boasts much more in terms of advanced safety goodies and more convenience features as well from heated sport seats to a 12-speaker JBL hi-fi surround sound system. After all, half the fun of sports cars should be the driver experience. And for drivers looking for a performance edge, the higher-end packages offer options like an upgraded Brembo disc brake set and 19-inch forged aluminum wheels so your Supra can both look and drive the part.
The base model GR Supra starts at $42,990 while the range-topping A91 Editions will set you back closer to $54,800. Unlike some other sports car models, the 2021 GR Supra is only offered as a coupe so if you have your heart set on a convertible sports car you'll have to look elsewhere. But all-in-all, if you're looking for a budget-friendly option that checks nearly all the sport car marks, the Supra is a well-composed coupe that might just be your new favorite ride.
Acura NSX
Plenty of time has passed since Honda decided to resurrect the legendary NSX nameplate. Over the years, the NSX has been more or less successful as a sports car boasting borderline supercar performance. The 2021 model of the NSX holds true to form, delivering 573 hp and 476 lb.-ft. of torque. With a top speed of 191 mph and sleek looks to match, the NSX is properly speedy with some styling nods to the supercars of its generation.
Design-wise, the 2021 NSX won't differ much from the prior models. What perhaps is most surprising is that this sports car is actually a hybrid, pairing its twin-turbo V6 with 3 electric motors and allowing for a Quiet mode as well as a sport, sport-plus, and track mode. It comes with a 9-speed DCT and all-wheel-drive.
The NSX definitely straddles the line between sports car and supercar, but the everyday driving potential is what pushes it more toward sports car (albeit with a closer to supercar price tag). This capable car is fast but also functional, meaning you can drive it for a composed drive to work or a spirited dash on the weekend with equal ease.
The base price for the 2021 NSX is just north of $159,000 with plenty of performance and aesthetic add-ons to quickly boost the price. Though the rumor mill has teased the possibility of an even more powerful NSX Type R hitting the U.S. market in the near future, for 2021 the plain old NSX is your only option — and one that should do just fine.
Lotus Evora GT
If you're looking for a unique sports car that is sure to turn heads on the road, the 2021 Lotus Evora GT is a mid-engine monster that is designed to be eye-catching from the outside and addictive from the driver's seat. As the sole Lotus sports car model available in the U.S. for 2021 (at least until the 2021 release of the Lotus Evija), the Evora is a car for the driver who likes a more visceral driving experience.
Though the 2021 model doesn't boast any significant updates over the 2020 model, it still has plenty of drool-worthy features. Powered by a 3.5-L V6 that turns out 416 hp and a top speed of 188 mph, the lightweight Evora packs plenty of punch. Plus, you have your choice between a 6-speed automatic or 6-speed manual, so if a stick shift is a must-have, the Evora should rank high on your best sports cars shopping list.
On the inside, the Evora has the fit and finish of a driver-oriented sports car — right down to the Sparco carbon fiber front seats. Though some (especially passengers) might bemoan the fact that the Evora isn't packed full of modern-day luxuries, if you're the lucky one behind the wheel, it's not likely you'll mind the stripped-down interior. Also, don't expect a long list of driver-assistant technology. Apart from a rear parking sensor, the Evora prefers to keep it simple (and lightweight) by forgoing these electronic aids and leaving piloting this fine-tuned machine in your capable hands.
Starting at $96,950, the Evora does cost a good chunk of change more than other comparable sports cars and, in terms of customization, Lotus doesn't offer as many trim packages as other manufacturers. But if you're looking for a compact, lightweight sports car that is all about the driving experience, the 2021 Evora is a top contender.
BMW Z4 Roadster
Sports cars are one thing. Convertibles are another. Luckily, you can combine the best of both worlds in the 2021 BMW Z4 Roadster. This sleek, clean-cut 2-seater has all the classic characteristics worthy of its Z4 heritage along with BMW's latest tech in tuning and suspension. The result is a sporty and stylish drop-top that you can daily drive in comfort or take for a rip through the curves.
You can opt for the sDrive30i which comes with a 2-L twin-turbo inline 4-cylinder or upgrade to the M40i for the added ponies of the 3-L twin-turbo inline 6-cylinder. The BMW M-badged package bumps the Z4 from 255 hp to 382 hp. And though on paper those numbers might seem like pocket change compared to some of the other sports cars on the market, just remember the Roadster also boasts a tuned and capable suspension, efficient aerodynamics, and dual exhaust — all contributing to a remarkably fun driving experience.
The Z4 comes standard with an 8-speed automatic transmission. Along with the steering-wheel-mounted paddle shifters, you can play around with the Sport and Manual modes. Inside, the Z4 is decked out with some standard luxurious touches as well as some optional upgrades like the M Sport seats. Between the infotainment center and the electric top, you get just the right amount of tech without unwanted extras.
Compared to its competition, the 2021 BMW Z4 continues to be a relatively affordable sports car option, with starting prices of $49,700 for the 30i and $63,700 for the M40i. And it doesn't cut corners either — for the price you'll still be getting a very capable sports car with all the added excitement of a convertible.
Audi TT RS
Though the Audi TT RS might not get as much recognition as some of its showier competitors or have as much of a fan base as some other sports cars, the 2021 Audi TT RS has all the right equipment to make it a top contender among the best sports cars. New for 2021, Audi has made several previously optional items standard including 20-inch wheels, red brake calipers, and the Black Optic package. All this ensures the TT RS looks the part both inside and out.
The TT RS comes with a 2.5-L 5-cylinder turbocharged engine that delivers 394 hp and 354 lb.-ft. of torque. When paired with Audi's Quattro AWD system, you get a machine that is both quick off the line and composed in the corners. The TT RS comes with a 7-speed DCT, and you can opt for an upgraded sport suspension for a more performance-oriented setup.
Inside, Audi has balanced luxury with sportiness. The TT RS forgoes touchscreens and infotainment centers for a clean dashboard with touches of carbon fiber trim to spiff up the look and feel. And though it might look sparse at first glance, this isn't a stripped-down track-day car. The TT RS is designed with driver comfort in mind, from the eight-way power-adjustable sport seats to the Alcantara-finished steering wheel.
Starting at $73,545, the 2021 TT RS did see a jump in price from the previous year's models. But with that, you also get new standard features and a compact sports car that can hold its own with the competition.
Mercedes AMG GT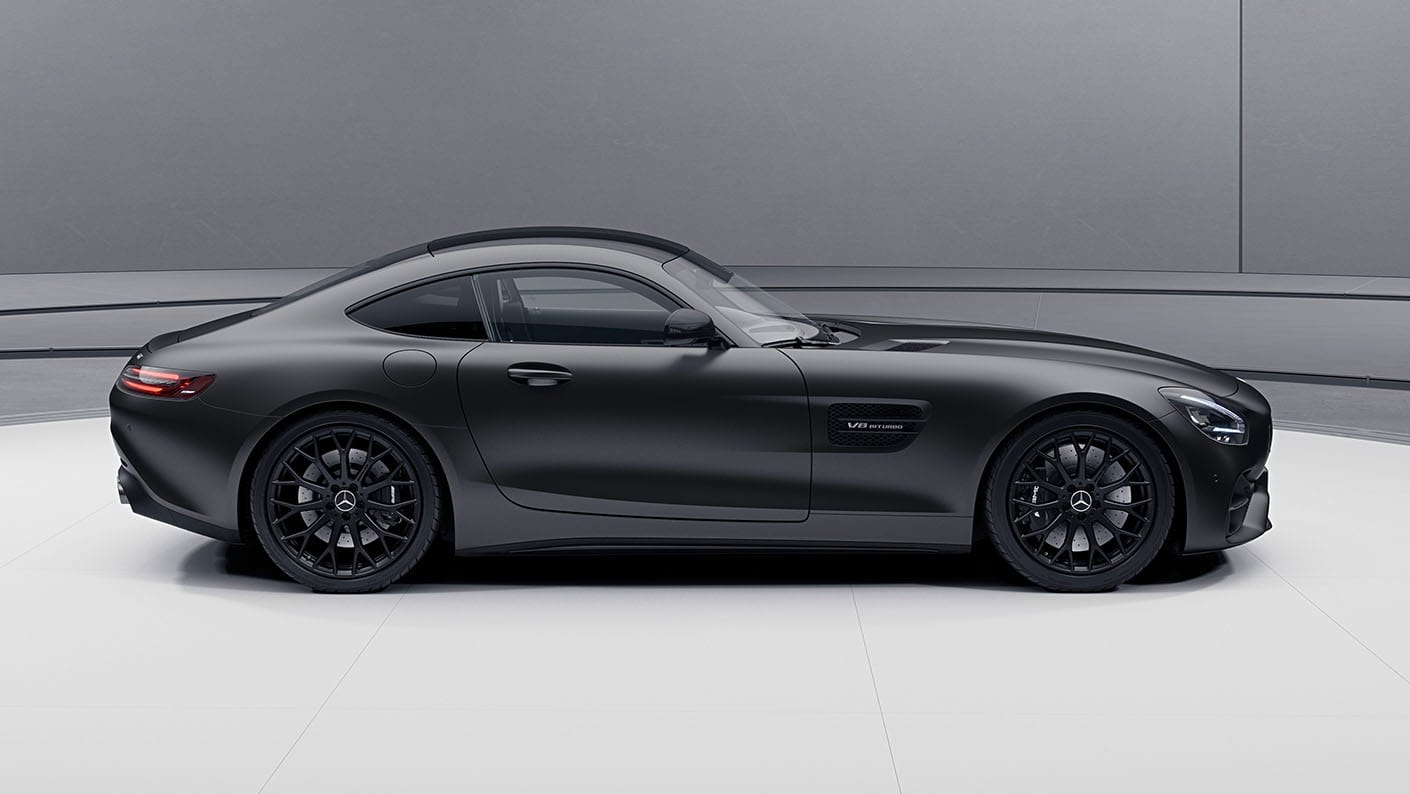 If you're on the hunt for a sports car that can play with the 911 Turbo in both price and performance, look no further than the 2021 Mercedes AMG GT. Available as either a coupe or a roadster, the AMG GT has head-turning looks and neck-snapping power. If you want a high-performance sports car that is athletic enough to balance daily driving and pedal-to-the-floor romps all while looking stunning, the AMG GT delivers.
The 2021 AMG GT coupe sports a hand-built 4-L biturbo V8 that is good for 523 hp and 494 lb-ft of torque. The slightly beefed-up GT C coupe gets bumped up to 550 hp and 502 lb-ft of torque. Both come with a 7-speed DCT and rear-wheel drive. Though refined on the road, the AMG GT also comes with a "RACE" mode that Mercedes says will allow you to experience the vehicle's max capabilities — a sure-to-be thrilling driving experience.
Inside, the AMG GT is short on space but you'll find that Mercedes makes up for the tight cabin with a thoughtfully laid-out interior. The top-of-the-line finish out is in line with the price tag – you can expect a fully digital gauge cluster and quality materials, including that desirable touch of carbon fiber inlay.
Though pricing has yet to be released for the 2021 lineup, based on the previous year's pricing, a good bet is that the base model of the AMG GT will start around $166,000 and go up from there. If you've got an unlimited budget, Mercedes also promises a decked-to-the-nines Black Series for 2021 as well.
Aston Martin Vantage
The 2021 Aston Martin Vantage certainly lives up to its legacy at least in terms of looks. Offered as a coupe, roadster, and with a track-day oriented F1 edition, the Vantage is an intriguing mix of aggressive refinement. As a sports car, it delivers agile handling and suburb looks, the ideal combo if you plan to daily drive this Aston.
The 2021 Vantage gets a 4-L twin-turbo V8 that puts out 503 hp and claims a top speed of 195. The F1 edition gets a sight boost to 527 hp. Between the 8-speed automatic transmission and the Sport, Sport+ and Track modes, you'll have plenty to play with. Overall, the Vantage delivers a poised yet powerful on-road experience.
The 2-seater sports car keeps up its appearances on the interior too with top-notch materials and loads of custom options. The lower driving position makes you feel more connected to the car and the road, and Aston clearly focused on adding just the right tech touches without overdoing the infotainment center.
Starting north of $142,000 for the base coupe model, you can easily wrack up an impressive list of costly add-ons building the Vantage to your liking. Not that you'll mind at all once you get behind the wheel.