Badass horse meets badass dinosaur? In Texas, anything goes.
Hennessey Performance Engineering (HPE), the Texas-based hypercar manufacturer and high-performance vehicle creator, gives the new Ford Bronco its magic touch. The result is the audaciously named VelociRaptor 400 Bronco, which upgrades the range-topping Wildtrak to 405 bhp at 5,700 rpm and 503 lb-ft of torque at 3,900 rpm.
Off-road-ready additions, notably to the wheels and bumpers, round out the functional rework. Finally, Hennessey applies the finishing touches with badging and interior flourishes. If you're interested, read on and act fast — 200 units are scheduled for 2021 delivery.
In his comments, Hennessey founder and CEO John Hennessey appears enthusiastic about the package. "Whether you're on- or off-road, more power is what our customers demand, and our VelociRaptor 400 Bronco really delivers," he said. "The new Bronco is destined to be an icon and our customers want their Bronco to stand out with enhanced styling and, of course, more power!"
Wildtrak Base, Hennessey Upgrades
The Bronco Wildtrak, the line's highest spec, is the VelociRaptor's platform. With its 2.7L EcoBoost V6, performance stats check-in at 310 hp and 400 lb.-ft. of torque standard.
Hennessey's engineers recalibrate the twin-turbocharged powerplant, giving it new intake and exhaust systems and software upgrades. A chassis dyno helped drive home the results, listed with upgrades of 75 hp and 88 lb-ft of torque. The practical outcome is a 4.9 second 0-60 mph sprint time.
Through its R&D process, Hennessey retains the Wildtrak's seven standard "G.O.A.T." drive modes: Normal, Sport, Slippery, Mud/Ruts, Sand, Rock Crawl, and Baja.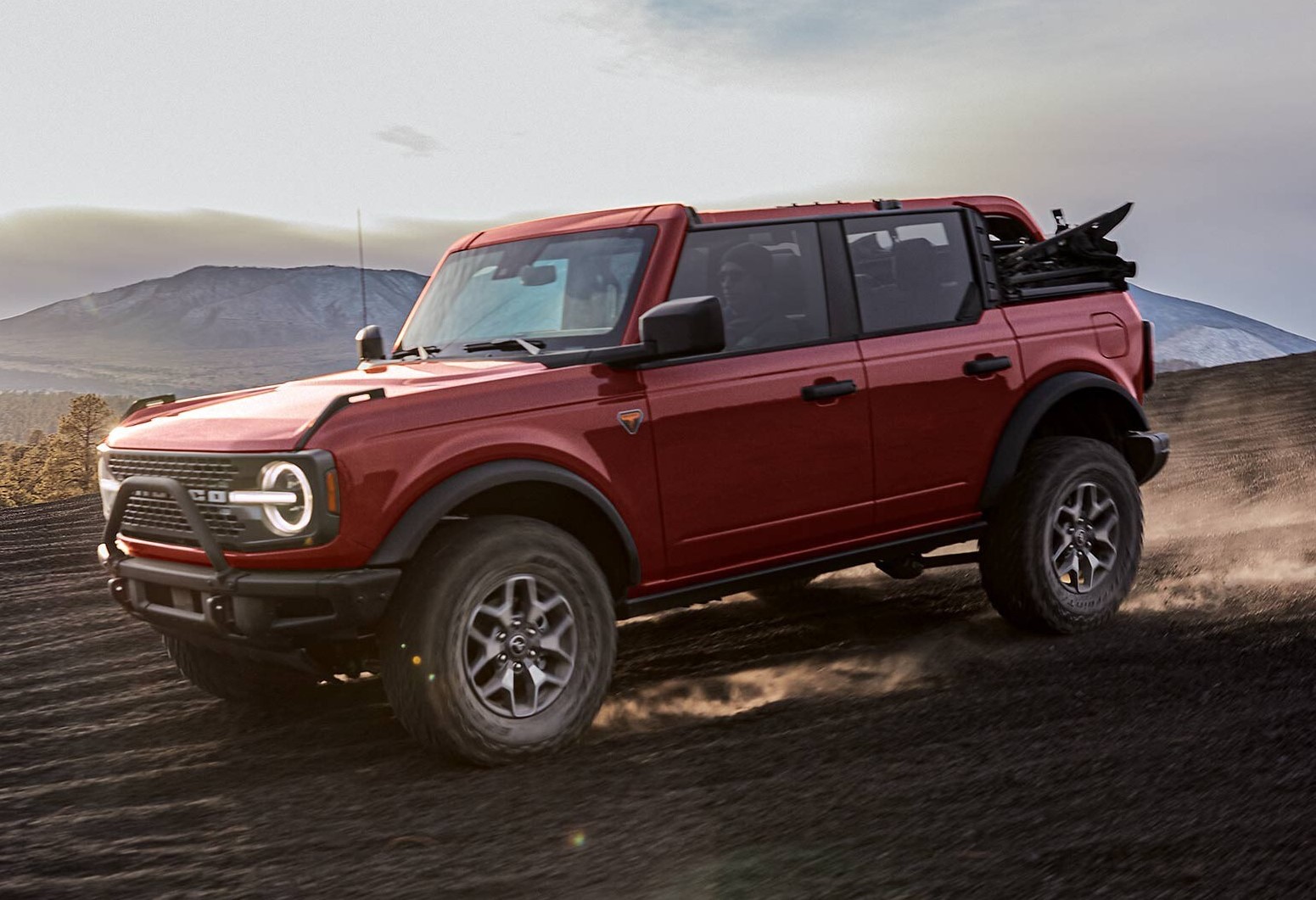 The VelociRaptor sits on 35-inch off-road tires on 18-inch Hennessey wheels. The package gets bumpers from Hennessey, including LEDs on the front. Retractable side steps are on board, and so is Hennessey and VelociRaptor branding.
Availability of the Hennessey VelociRaptor 400 Bronco
The Hennessey VelociRaptor 400 Bronco is available for order now, in 2- or 4-door versions, with or without a soft top. 200 units will be available in 2021 (with another 250 scheduled for 2022).
Hennessey estimates a price tag of $80,000 (base Wildtrak included) for the typical customer and provides a 3 year/36,000-mile warranty. Orders can be placed through authorized Ford retailers or Hennessey directly by calling 979.885.1300 or visiting HennesseyPerformance.com.
Check out other Bronco reiterations here.