Supercars aren't necessarily rare these days. You can pretty much find one in every big city. Still, the apex predators — the highest horsepower cars in the world — are a breed apart.
If you want to own one, apart from needing deep pockets, you'll probably also need an "in" at the factory to get your name on this list for the often limited production runs. The cars can cost millions of dollars, and with the impressive number of ponies under the hood, you may never get to use more than 10% of the throttle when driving the legal speed limit on the street.
But at the end of the day, these high horsepower beauties are the ones that many automotive enthusiasts dream of owning. Luckily, a few actually make it to production. And while their numbers might be limited, a few lucky drivers will get to take these ferociously fast supercars out on the road.
Highest Horsepower Cars in Production or Coming Soon
These cars are about status, theater, and plain showing off. After all, the highest horsepower cars in the world are often about bragging rights, both on paper and the road. Plus, these engineering marvels boast futuristic engineering and unusual styling, making them downright beautiful as well as bloody fast. And thanks to the adoption of electric power, many of the highest horsepower cars on the market today are hypercars or full EVs. Feast your eyes on some of the most powerful production cars that money can buy.
Hennessey Venom F5 | 1,817 hp
Billed as America's hypercar, this 301 mph car was designed from the ground up with high speeds in mind. Having started building supercars by essentially modifying a Lotus, John Hennessey has taken it to the next level with the 1,817 hp Hennessey Venom F5.
The Venom F5 is powered by a rear-mid-mounted 6.6L twin-turbocharged V8. It has low-drag aero and weighs 2,998 pounds, thanks to its carbon fiber monocoque chassis.
With a 0-60 mph time of 2.6 seconds and a top speed of 311 mph, the rear-wheel-drive Venom has no trouble translating all the power from its aptly named "Fury" V8 into raw speed. The Venom F5 is a throwback of a car that rejects modern hybrid technology in favor of brute force. If you have $2.1 million to spend on your next hypercar, you're going to want to reserve one of these high horsepower cars now.
Koenigsegg Jesko | 1,280 hp
Koenigsegg is a near-perfect counterpart for the romance of the Italian supercars. It offers cold and stoic Nordic logic and brute hammer-like force to create big horsepower, rear-wheel-drive cars that push the limits of science and technology.
The Jesko is the company's latest track-focused, road-legal car for drivers looking for that do-everything supercar that turns heads in the process.
The Jesko boasts a redesigned 5.0L twin-turbo V8 engine that produces 1,280 hp (or if you have access to E85 biofuel, you can bump that output to 1,600 hp). The engine is paired with a 9-speed Koenigsegg Light Speed Transmission which the company claims pushes the envelope in terms of dual-clutch technology for impressively fast and nearly unnoticeable shifts.
And the Jesko looks the part too, with a carbon fiber chassis and advanced aerodynamics. And it's functional, with more headroom and greater visibility for the driver and over 2,200 pounds of downforce thanks to the aero. With a 0-60 of around 2.5 seconds and a top speed that flirts with the 300 mph mark, the Jesko is no slouch when you put the pedal to the floor. You can own one for a cool $2.8 million.
Bugatti Chiron Super Sport |1,578 hp
The Bugatti Chiron Super Sport needs all the downforce it can get to keep its 1,578 hp under control. The Chiron Super Sport is just an orgy of absurd numbers, from the 273 mph top speed and the 8.0L quad-turbocharged W-16 to the three days that every car spends in the paint inspection tunnel to ensure the finish is beyond perfect.
VW brought the racing icon from the early 1900s back to life with a simple mission: to make the fastest, most powerful, most next-level hypercar in the world. Bugatti was long a PR machine for VW, effectively serving as the brand's road-going motorsport program. In 2021, VW sold Bugatti to the Rimac Group, which may just be a hypercar match made in heaven though it remains to be seen where the partnership will take the Chiron.
Hennessey may have stolen the top horsepower thunder, but in 2019 Bugatti snuck in to claim the win on top speed with the Chiron, logging a record-setting 304.773 mph test run and claiming bragging rights as the first production vehicle to break the 300 mph mark.
The Chiron Super Sport is four-wheel drive and one of the few highest horsepower cars here that you could feasibly use as a daily driver (if you have $3.9 million to spend on your daily, that is). It's as soft and gentle as a VW Golf until you go for the handling set-up and ignite the turbos. Then it's simply faster than the human brain.
Aston Martin Valkyrie | 1,160 hp
The British legend has been on a roll in the last few years, after hooking up with Mercedes-Benz to supply engines for the DB11 and the new Vantage. The 1,130 hp Valkyrie, though, is on another level entirely.
The Valkyrie is a technical exercise, designed by legendary F1 engineer Adrian Newey, and car enthusiasts around the world have fought tooth and nail to get one of the 150 models promised in 2022 production. As Aston Martin's first hypercar, it was a joint project with Red Bull Racing that resulted in what is essentially a road-legal race car weighing just 2,270 pounds.
The heart of the hybrid powertrain is the 6.5L V12 that makes 1,000 hp. The addition of the electric motor is good for a bump of 160 ponies, all delivered to the rear wheels via a 7-speed automatic transmission. With this weight and this power, it could be the most dramatic road car out there right now.
And if you don't need something so "ordinary" as this daily driver (which has a price tag of $3 million), Aston Martin stripped down the hypercar for an even more limited run of track-day beasts, the Valkyrie AMR Pro. We think James Bond would approve.
McLaren Speedtail | 1,036 hp
McLaren enters the hypercar game with the aptly named Speedtail, a 1,070 hp vehicle that takes top honors as both the fastest and most aerodynamically efficient car that McLaren has built to date. The distinctive tear-drop shape of this sleek hypercar helps the Speedtail hit a top speed of 250 mph.
The Speedtail is outfitted with a 4.0L twin-turbocharged V8 and parallel hybrid system that is good for a roughly 3 second 0-60. Weighing in at 3,153 pounds, the Speedtail isn't as light as some of its carbon fiber competitors, but you get an impressively decked-out interior that you'll likely find worth that weight penalty.
The Speedtail joins the Elva, Senna, and Senna GTR in McLaren's Ultimate line, and it's easy to see where it draws its inspiration. But as the pinnacle of the Ultimate series, it also isn't surprising to see that the Speedtail tops the charts in terms of specs and stats compared to its fellow McLarens.
With a starting cost of around $2 million, only 106 Speedtails are planned for production — all of which are already claimed. This is probably fine as this hypercar technically isn't street legal in the U.S. though McLaren notes you can take your hypercar for a spin in the countryside under the show or display law — your local Coffee and Cars club will thank you.
Tesla Model S Plaid | 1,020 hp
Are you in the market for a family sedan that will hit 60 mph in under 2 seconds and top out at 200 mph? If so, the Tesla Model S Plaid goes beyond even a ludicrous amount of horsepower with a whopping 1,020 hp. Plus there's the torque — 1,050 lb.-ft. of it to be precise — and it's all available instantly.
Allow that to sink in for a moment. It's a family sedan that is rubbing shoulders with the supercar elite and able to demolish many more capable sports cars over the quarter-mile. Just plant your foot and the car will do the rest (well, with some mode adjustments) thanks to the tri-motor, all-wheel-drive platform.
On the rare occasions you take over the wheel from the Autopilot system, you'll have a devastatingly fast car underfoot. Sure it's heavy at 4,766 pounds, but it is also scary fast in a straight line. Plus with a 390-mile range and supercharging up to 200 miles in 15 minutes, you can take this EV pretty much anywhere.
The Tesla Model S Plaid is a weapon and a luxury car, all rolled into one. If you're in the market for something a little different and looking for a production car you can actually own (no limited runs or already spoken for models here), you might want to take a look at the Plaid.
Rimac Nevera | 1,914 hp
Rimac was the lone wolf in the EV hypercar sector for a long time. Maté Rimac pioneered a technical tour de force in the Rimac Concept One and now works with car manufacturers around the world to perfect their EV systems. The Koenigsegg Regera and Aston Martin Valkyrie both have Rimac systems on board. Some others do too, though they don't shout about it.
The recently unveiled Nevera takes the Rimac C Two concept car to production. This all-electric hypercar makes a whopping 1,914 hp and is capable of a top speed of 258 mph. The Nevera also boasts a 0 to 60 sprint of 1.85 seconds.
All that power is distributed from the H-shaped 120kWh battery via Rimac's improved all-wheel torque vectoring system. The Nevera even has an onboard AI driving coach that uses the car's onboard sensors to optimize your on-track performance. With a price tag of $2.4 million, the Nevera is a look at where the high horsepower hypercar revolution is headed.
Ferrari SF90 Spider| 986 hp
The Italian legend opted for a drop-top with the latest iteration in their hypercar lineup. The SF90 Spider has a retractable hardtop and an impressive 986 hp plug-in hybrid system, pairing a 4.0L V8 with three electric motors.
It's a 211 mph car that hits 60 mph in roughly 2.5 seconds, and the hybrid system provides torque fill and torque vectoring in this all-wheel-drive package which makes 590 lb.-ft. of torque.
Following in the footsteps of the Ferrari LaFerrari and SF90 Stradale, the SF90 Spider delivers top hypercar performance in a convertible package, a unique option for drivers wanting high horsepower and open-top driving.
Surprisingly economical too, the two-seater Spider is rated for 20 mpg city and 24 mpg highway so you can daily this beauty if you have a spare half a million lying around. The SF90 Spider has a starting MSRP of $558,000.
Dodge Charger SRT Hellcat Redeye | 797 hp
The Dodge Charger SRT Hellcat Redeye could be considered a street-legal drag racer and for good reason. This 797 hp monster could easily devour drag strips and has a modest starting MSRP of $72,670.
The stylish and burly rear-wheel-drive sedan has plenty of presence and hides a 6.2L supercharged V8. It pumps out up to 707 lb.-ft. of torque, can smoke the tires in any of the first four gears, and hits 203 mph flat-out.
And before you start complaining that the Hellcat has "only" 797 hp, keep in mind that this sedan is actually decently affordable, and one of the few cars on the list that you can order without a personal invitation. Plus, which of the other highest horsepower cars can you reasonably tote your kids around in?
SSC Tuatara | 1,750 hp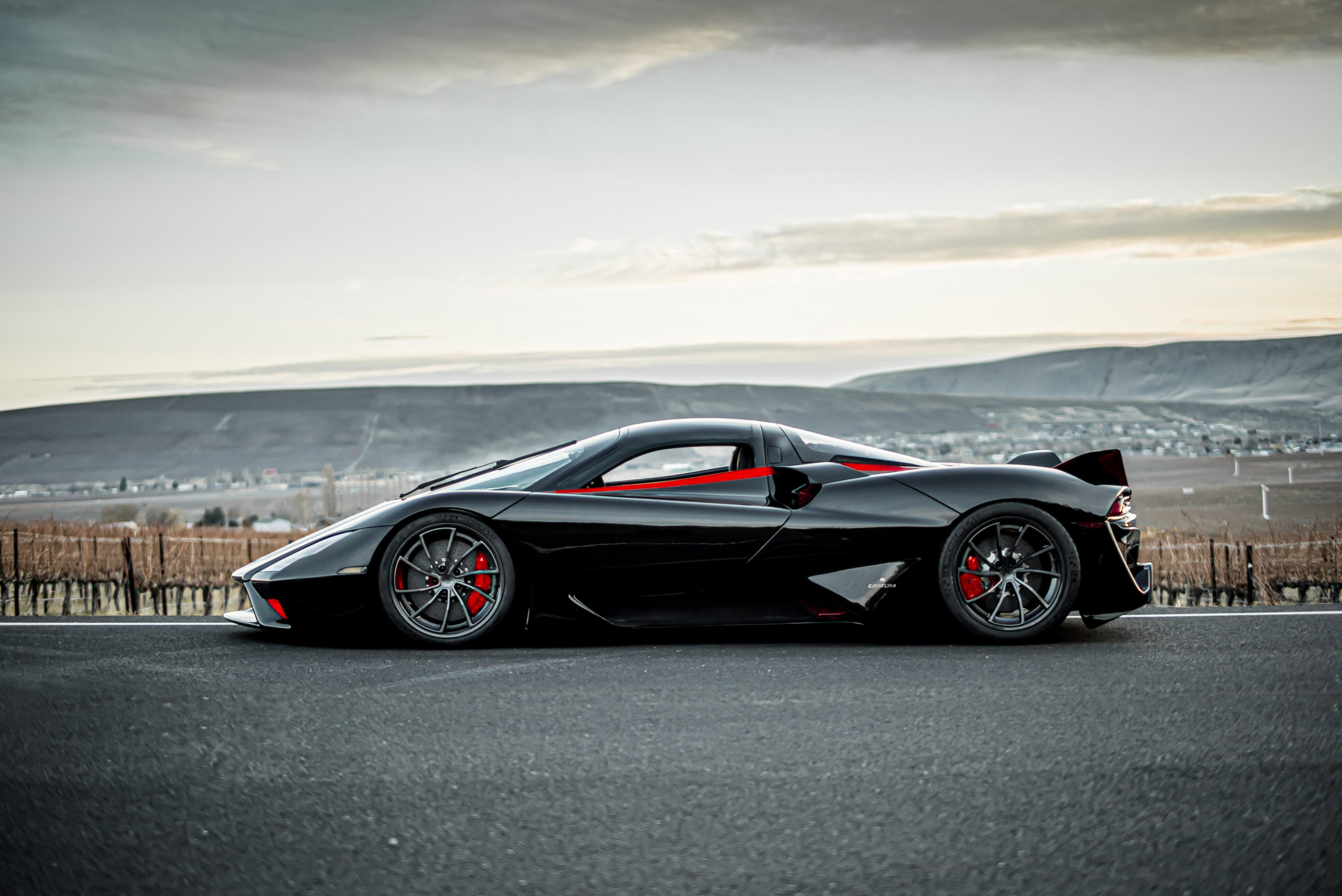 If you're in the market for a hypercar with striking looks and futuristic function, put the SSC Tuatara on your shortlist. With over a decade of research and development behind this modern marvel, the Tuatara is elegant, aerodynamic, and a powerhouse.
The mid-engine hypercar comes standard with a bespoke twin-turbo V8 engine that makes 1,750 hp (when running E85 fuel) and redlines at 8,800 rpm. The V8 is paired with a CIMA 7-speed manual transmission with a robotic Automac AMT system that utilized hydraulic components for lightning-fast shifts.
The carbon fiber monocoque chassis construction ensures the car is lightweight, with a 2,750-pound dry weight. Additional performance goodies include things like remote reservoir shocks and a hydraulic active rear wing. And SSC North America showcased the Tuatara's top speed of 282.9 mph in person at the Kennedy Space Center in January 2021.
And before you think that the Tuatara is only made to be a track day beast, don't overlook the fact that the car also has two other driving modes (Sport and Lift) for use on the road, and creature comforts like air conditioning, a digital touch screen, and rear and side-view cameras. You'll be one of the highest horsepower cars on the road whether you're running to the grocery store or burning rubber at your local track.
Lotus Evija | 1,973 hp
If you're willing to get in line for the first British all-electric hypercar, Lotus has the high horsepower beauty you've been looking for. The Evija promises to build on Lotus's 70-year tradition of creating innovative and eye-catching cars.
The Evija, which is currently in testing and slated to be released in 2021, certainly has its fair share of impressive stats — from the 1,973 hp to the 200+ mph top speed to the all-important EV game-changing 215 miles of range.
Lotus is slated to produce 130 units all of which will run more than $2 million. There is one slight catch for U.S. buyers. Though the car will be sold in the States, it technically isn't road legal. However, we hope this powerful electric car is paving the way for future road legal high horsepower EVs to come.
Aspark Owl | 2,039 hp
The Aspark Owl is the first Japanese fully electric hypercar to hit the market, and it seems to have been worth the wait. The state-of-the-art 64 kWh lithium-ion battery system makes 1,300 kW and boasts a range of 280 miles. The batteries can be charged to 44 kWh in 80 minutes.
But the real mind-boggling stats come in terms of power and performance. The Owl has a max speed of 248 mph and the four onboard PMSM electric motors make a staggering 2,039 hp. Aspark claims the Owl is the fastest accelerating car in the world with a 0-60 of 1.69 seconds.
The four-wheel-drive Owl is lightweight too with a carbon fiber monocoque construction. The car gets outfitted with a torque vectoring system, active aero, and ride height adjustment so you can really hone the car in for the type of drive you want. Inside, the handcrafted interior looks like something both futuristic and comfortable, as Aspark hasn't stripped out creature comforts.
The Aspark Owl, which has been several years in testing, will start with an extremely limited production run of merely 50 cars, only ten of which are rumored to be headed to the States. The Owl is reported to cost north of $3.5 million — this is a hypercar destined for the elite of the elite.
The Future of the World's Highest Horsepower Cars
With electric powertrains stepping onto the scene in a big way, it's anyone's guess what the highest horsepower cars of the future might look like. From innovative brands like Tesla pushing the everyday EV game to niche brands like Rimac creating limited runs of high horsepower hypercars, the sky seems to be the limit for the horsepower of the supercars yet to come.