Demand for classic muscle cars is rising and so are their prices. And though not everyone is fortunate enough to be able to afford a fully restored classic muscle car, there is still good news for muscle car enthusiasts. If you know what you are looking for, you can find a few collectibles that are still available that won't cost you an arm and a leg. However, you shouldn't wait too long, as these cheap muscle cars will only get harder to find.
20 Classic & Cheap Muscle Cars
The golden age of muscle cars may be long gone (or we're in the middle of it now with the Hemi everything movement; see Durango Hellcat & RAM TRX) and the recent downsizing in engine displacement coupled with the increased importance of fuel efficiency is condemning the precious few options currently available in the market. However, if you're shopping for a classic muscle car, don't despair. Second-hand icons are still out there, and they come from the time when cars were built to last. Even some 50-year old hot rods can still be found in very good or even mint condition. All you've got to do is keep your eyes peeled and your mind open.
It also helps to understand that there's more to classic American muscle cars than your Hemi Cuda, Chevrolet Corvette, Chevrolet Chevelle, Dodge Charger, Dodge Challenger, Shelby Cobra, and Mercury Cougar. Though we know you are probably drooling over these usual suspects, if you're working with a budget, there are some equally fun and affordable classic muscle car options out there!
Just remember that the price range and condition of these cars are going to vary widely. And don't expect to find a plethora of models to choose from — often you'll only find a handful of classic muscle cars for sale in your price range. But with some homework, regular Internet sleuthing, and a little bit of luck, you might just be able to add one of these muscle cars to your stable. Here are 20 cheap muscle cars that are actually still affordable … for now.
Chevrolet Camaro (1970-1981)
The classic Chevy Camaro is one of the more iconic muscle cars on the market. And while a fully restored Camaro might cost you in the range of $400,000 at auction, if you take the time to look around, you can find a real bargain on a second-generation Camaro.
If you can stretch your budget to the $10-15k range, you can often find base model Camaros from the '70s in decent shape. Sure, you won't be getting the beefed-up Camaro RS or SS, but you'll still get that classic Camaro V8 and Chevy's distinct muscle car styling. What's not to love about that?
Mercury Comet (1971-1977)
If you know where to look, you can pick up a Mercury Comet in the range of $8-15k. Originally based on the Ford Falcon, the sixth-generation Comet was available with an optional V8 and GT trim. And the Comet has plenty of classic muscle car heritage that shows.
If you can find a 1972 Mercury Comet equipped with a 302-cubic inch V8 as well as Flowmaster dual exhaust or a similarly equipped '73 model — well, you'll be one happy driver. More realistically, you'll be trying to chase down a base model in this coveted muscle car that is in good shape and decent working order, but if you can score one for under $15k, consider it a steal.
Chevrolet El Camino (1973-1977)
When it comes to classic muscle cars, the El Camino is certainly one of the more recognized names. It also seems to go into the shop at an affordable price and resells at the auction block for an outrageous price. The good news is that if you are eyeing an El Camino, you can still pick one up on a budget — usually, there are a few on the market in the $10k range.
Keep an eye out for a fourth-generation model which came stock with a 5.7L V8. This generation of the El Camino was redesigned to match Chevy's Chevelle line and used the wagon chassis. As such, it's the largest of the El Camino line giving it all that iconic muscle car presence.
Ford Mustang (1965-1978)
Do you ever wonder if the designer of the Ford Mustang dreamed that this car would become such an icon when it made its debut in 1964? After six generations, it is still rolling off the production line at a price almost everyone can afford! Yes, restored classic Ford Mustangs can sell for upwards of $200,000, but you can still find some of the '60s and '70s models at an affordable price.
These first- and second-gen Mustangs may need a little TLC, but don't let that discourage you from picking one up. If you are looking for a less expensive alternative to the classic Mustangs, you should keep your eyes peeled for the 6-cylinder versions. You can expect one in good running condition to set you back in the ballpark of $15k, though you can likely pick up a partial rebuild for less.
Pontiac Firebird (1970-1981)
The price of the first generation of Pontiac Firebirds has already gone up since this muscle car was only in production for two years. However, even with the high demand, you can still find the second generation at reasonable prices — in the range of $8-15k.
It could be that the Firebird's price is still relatively low because the "Smokey and the Bandit" wannabe generation are looking for Trans Ams. Though the second-generation Firebird may not have the Trans Am's performance (the exception being the 1979 version with the 6.6L V8 engine), it came with the same superb body style making it a good option if you're looking for a classic muscle car with some added flair.
Dodge Dart (1967-1976)
Over the years, the Dodge Dart underwent a lot of changes, both under the hood and in the body styling. The car was a huge success for Dodge, and the constant changes in body style were likely what made people believe that each Dart generation was an upgrade from the last version. The Dart started life as out as a large boxy car that eventually evolved to have a more curved roofline.
The fourth generation of the Dart could be had in everything from a 4-door sedan to a 2-door convertible. With some smart shopping, you might be able to score the 6-cylinder version for under $10k or if you can stretch your budget, good condition V8 models will set you back around $15k.
Chevrolet Impala (1965–1970)
The Chevy Impala is one of those classic muscle cars coveted by gearheads, low riders, and classic purists alike. But with some determined searching and a little bit of luck, you too can become the proud owner of an important piece of American motoring history.
Chevy introduced the Impala in 1958 and from the get-go, it was considered a world-class coupe and convertible. After four years, Chevrolet released the SuperSport version, making their iconic muscle car synonymous with performance.
You can still find low-priced treasures today, and if your timing is right, you can snag a fourth-generation Impala for under $15k. It might need a little TLC, but you probably will be stoked to spend time with your new muscle car, starting with some minor restoration projects.
Oldsmobile Cutlass (1968-1972)
You can still hunt down the third generation of the Oldsmobile Cutlass without giving up the family fortune as this muscle car can be found in the range of $12-$15k. Since it shares a number of the coveted Pontiac GTO's styling lines, it is almost unbelievable that the demand for this classic car has not skyrocketed.
There is little doubt that this generation of the Cutlass is one of its era's coolest muscle cars. It gets its awesome stance from the 442 model's raw power and the semi-fastback, oversized rear end. In the years to come, collectors will definitely regret not purchasing one of these vehicles while they were still available at a bargain price.
Chevrolet Nova (1975-1979)
Though it's unlikely you'll be able to get your hands on a coveted Nova SS for under $15k, if you don't mind the base model coupe, the fifth generation of the Chevy Nova still has plenty of muscle car heritage to back it up.
It won't necessarily be easy to find this model as you'll have to time it just right to pick up one of these classics, but if you can get your hands on a Nova with the optional V8 or the Super Sport package, you can walk away knowing that you scored a great deal.
Mercury Marauder (1963-1965)

First-generation models of the Mercury Maurader were available with 390, 406, and 427 ci Thunderbird engines, while second-generation models came with 390 and 429 ci options. Needless to say, the first-gen 390 ci Marauder is probably the least expensive way of owning this cruiser muscle car, but if you keep your eyes open you'll find there are exceptions to be had for the right price.
Chevrolet Monte Carlo (1973-1977)
If you're in the market for a two-door coupe with some classic muscle car styling, you can still find second-generation Chevy Monte Carlos in the range of $7-$15k. The Monte Carlo, which was named the 1973 "Car of the Year" by Motor Trend, came standard with a V8. Keep your eyes open for an "S" or "Landau" model for some additional options like driver and passenger side sport mirrors and standard power steering.
Dodge Polara (1969-1973)
When looking for an already rare Dodge Polara, you're going to have to be patient and get a little lucky to score the perfect deal on an affordable Polara in good condition. The third generation of the Polara was offered as a two-door hardtop and convertible as well as a four-door sedan. You can even find a four-door station wagon version if that's your style. Depending on the year model, the Polara came standard with either a 6-cylinder or a V8. This cheap classic car can be found in good condition in the range of $8-15k.
Ford Ranchero (1972-1976)
You might not expect the Ford Ranchero to be on this list, but muscle is muscle. The Ranchero, though not as prolific as the El Camino, is at least a bit more affordable. The GT versions are, of course, more expensive than conventional 351s, but you can still pick up a sixth-generation model in the range of $7-$10k.
Available as either a 4-speed manual or a 3-speed automatic, the Ford Ranchero could be paired up with either an inline-6 or a V8. If you can pick up one with a big block V8, you'll be certain to enjoy some classic muscle car growl.
Ford Galaxie (1969-1974)
It's a strange world out there when executive cars are less expensive than compacts, but muscle cars aren't your average cars. The Ford Galaxie is yet another full-size option you can have at an affordable price.  The fourth generation of the Galaxie can be had in the range of $10-15k for a big block, though you can sometimes score a deal for less. Plus with models ranging from two and four-door hardtops to four-door sedans and two-door convertibles, there are some cool options out there to choose from.
Plymouth Fury (1965-1968)
The Plymouth Barracuda, Roadrunner, and Superbird can be quite expensive these days. However, you can still find the Plymouth Fury, an exquisite American muscle car in its own right, for less than $10k if you look hard enough. The fourth-generation Fury was offered with either a 6-cylinder or V8 engine. And keep an eye open for the Sport Fury which got a sportier interior and upgraded trim package.
Buick Riviera (1966-1970)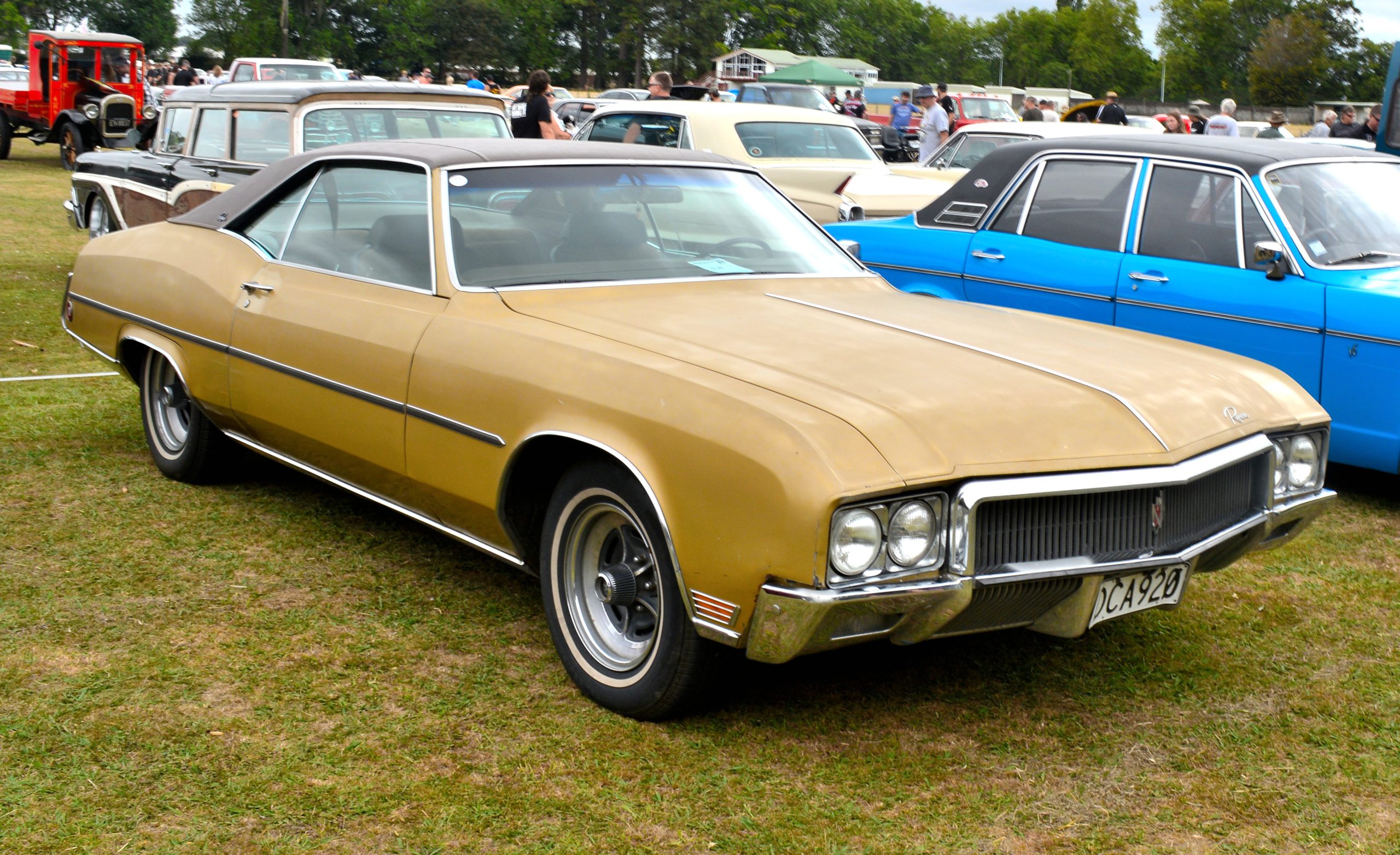 Another full-size muscle car option, you can pick up a second-generation Buick Riviera for around $10-13k. In fact, even the most expensive Buick Riviera's on the market rarely have price tags as high as icons like the GTO, Mustang, or Camaro of the late '60s. You're most likely to find a great deal on models from 1966 through 1970. It's not a Buick GSX, but it came standard with a V8 and will look good in your driveway nonetheless.
Pontiac Grand Prix (1973-1977)
The first few generations of the Pontiac Grand Prix were the real deal. And while the first two generations are getting hard to find, you can still pick up a third-generation Grand Prix at a very affordable price, with good condition Grand Prix's ranging from $6-10k. Though larger and a bit heavier than the previous generations, these year models came standard with a V8 and some distinctive styling that is sure to get you noticed around the neighborhood.
Ford Thunderbird (1967-1971)
If you're looking for an affordable muscle car that won't take too much work to track down, the Ford Thunderbird is a prime candidate. You can find a relative abundance of fifth-generation T-Birds in the range of $7-10k.
Though this later generation of the Thunderbird was larger and not quite as flashy as its rival of the time, the Ford Mustang, it still managed to mesh luxury with muscle car credentials thanks to its standard V8 and classic late '60s styling.
AMC Hornet (1970-1977)
The AMC Hornet was produced as a single generation from 1970 through 1977. Available as a two and four-door sedan, station wagon, and hatchback coupe, the Hornet saw several styling transformations over the years.
Depending on the year and model, Hornets are currently running in the range of $6-$15k. And though you might not be all that excited about the station wagon, if you can find the 1973 hatchback which came with a 5.0L V8, you'll be pretty happy you kept searching the ends of the Internet for that perfect muscle car.
20 Affordable Classic Muscle Cars
Chevrolet Camaro
Mercury Comet
Chevrolet El Camino
Ford Mustang
Pontiac Firebird
Dodge Dart
Chevrolet Impala
Oldsmobile Cutlass
Chevrolet Nova
Mercury Maurader
Chevrolet Monte Carlo
Dodge Polara
Ford Ranchero
Ford Galaxie
Plymouth Fury
Buick Riviera
Pontiac Grand Prix
Ford Thunderbird
AMC Hornet
The classic muscle car scene is wide and varied, and there are certainly many other options not listed here. Don't be afraid to do some independent research on the matter. And remember, finding your perfect cheap muscle car might be just a few clicks away.